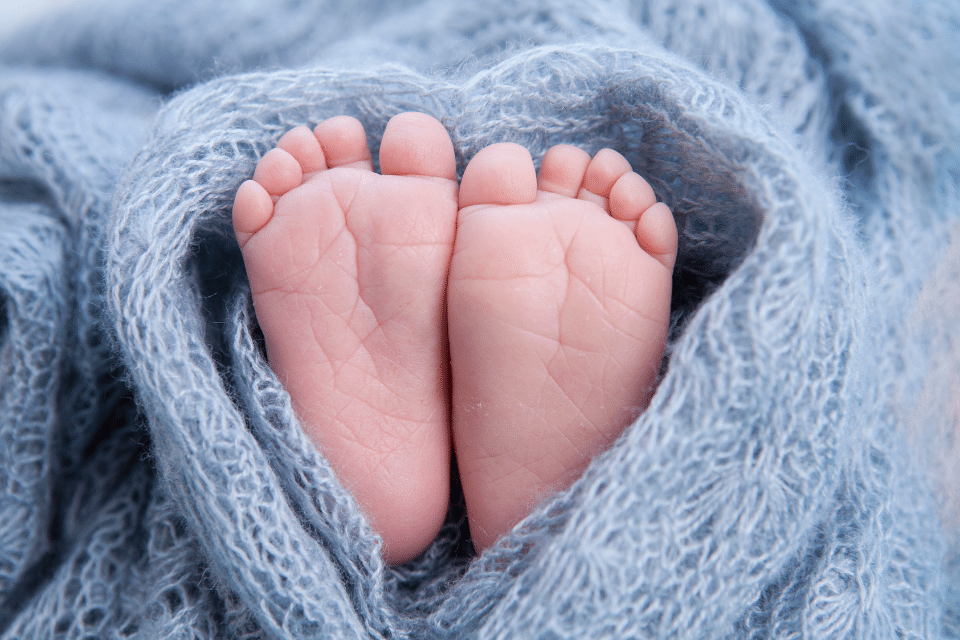 Cute Shoes, Little Feet
Whether they're just getting used to this brand new world, or now getting the hang of walking and talking, there's a closetful of cute shoes for babies and toddlers in 2022.
Do Babies Need Shoes?
While parents will want to keep their infant's feet protected from cold temps, shoes for babies are adorable fun anytime throughout the year. But once the little ones are on the move, toddlers' shoes become a must-have. Because they provide traction and support, knowing what to look for can make finding the right shoes easier.
Shoe-Shopping Tips: Infant and Toddler Style
Rubber grips and soles will keep new walkers from sliding on slippery floors.
Shop for shoes with breathable material that can be easily cleaned. Most parents prefer something soft and lightweight.
Convenience will be a key. Look for styles that go on and come off easily.
They must also stay in place.
Shoes that are comfortable, supportive, and adjustable are the Goldilocks standard.
Their feet are growing fast, so leave a little room. But not too much—toddlers' shoes should fit well with a little extra in the toe.
Once you find your favorite pairs, check the fit frequently. Growth spurts often come without any warning.
And finally, go ahead and get cute. There aren't that many years that they'll let you dress them up.
Decoding Baby & Toddler Shoe Sizes
On your first foray into the world of tiny shoes, the sizing needs decoding. Toddlers' sizes run from 0 – 13. Infants start at the small end of the scale, growing in size like they grow in age. Things can get confusing because the scale starts over again for bigger kids, running from 1 – 7, and overlapping with the smaller scale. Look for a T marked by the manufacturers for toddler. Kids sizes are often marked as such, too. Read the product descriptions carefully and double-check the numbers.


Handy Shopping Guide


Now it's time for the fun stuff — some favorite infant and toddler shoes for 2022.
Top Girls' Shoes for Little Ones

Skechers Twinkle Sparkle Toddler Girls' Light-Up Shoe
Skechers delivers two toddler styles on this list: a colorful pair from the Twinkle Sparks collection with a rhinestone cap that lights up with every step and sparkle accents that shimmer and shine.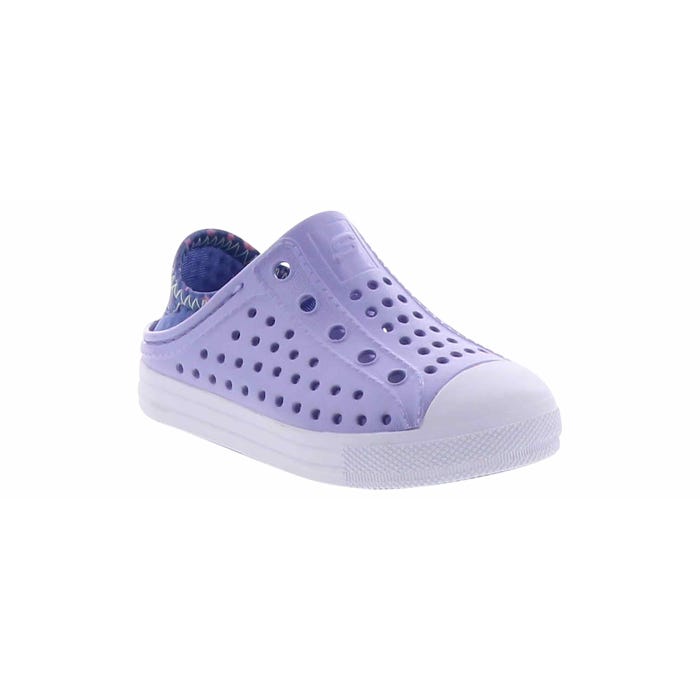 Skechers Guzman Steps Sandcastle Dream Toddler Girls' Casual Shoe
The Guzman Steps Sandcastle Dream with ventilation holes and EVA waterproofing, is just right for a play day outside.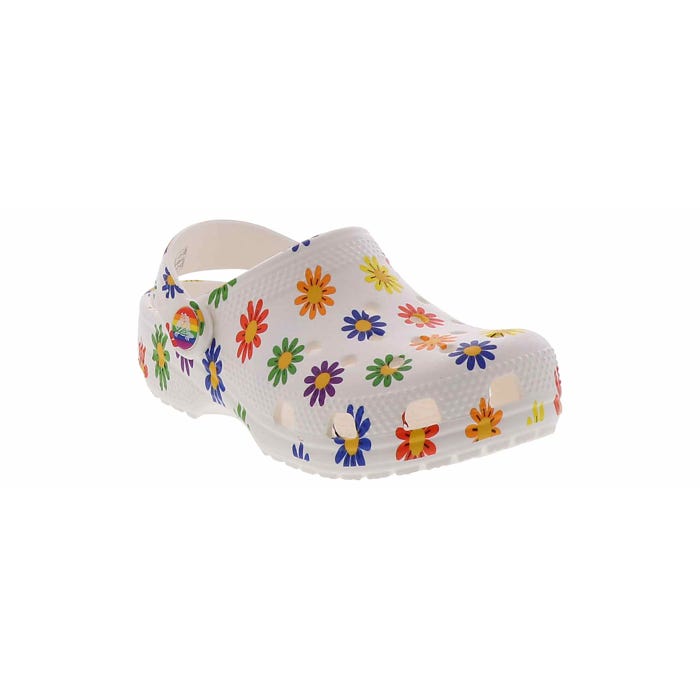 Crocs Classic Seasonal Toddler Girls' Clog
The airy, comfy style that Crocs is known for also landed the famed shoe brand on this list. That, and of course, the cheery daisy print. Oh how her garden will grow with a pair of these easy clogs on hand.
Converse Chuck Taylor All-STar 2V Toddler Girls' Sneaker
Converse sneakers for toddler girls in the forever-popular Chuck Taylor style provide stability and traction to wobbly legs just learning to walk. And this pair comes with playful leopard spots with hook-and-loop straps for a supportive fit.
Adidas Racer TR21 Toddler Girls' Running Shoe
Adidas girls' running shoes have the right fit, durability, and traction for future athletes. Watch her build her strength and speed starting in the toddler sizes of the athletic shoe brand.
Laura Ashley Betty Rainbow Infant Girls' Sandals
Rounding out the list of six is an adorable dress sandal from Laura Ashley with glitter and rainbows for the ultimate in girly-girl—and this one comes in an infant size.
Shop Toddler Shoe Sizes 5 – 10
Top Boys' Shoes for Little Ones
Hey Dude Wally Linen Toddler Boys' Casual Shoe
Little shoes for baby boys and toddlers are just as adorable in tiny sizes. Hey Dude makes each new style for the promise of a new adventure, which is perfect for little boys discovering a big world. The Wally Linen Casual Shoe steps right up for such a challenge.
Crocs Classic Easy Toddler Boys' Clog
Crocs also makes tiny shoes perfect for your baby boy.. The Easy Icon Clog will have him doing his best monster impressions thanks to the design of allover colorful characters.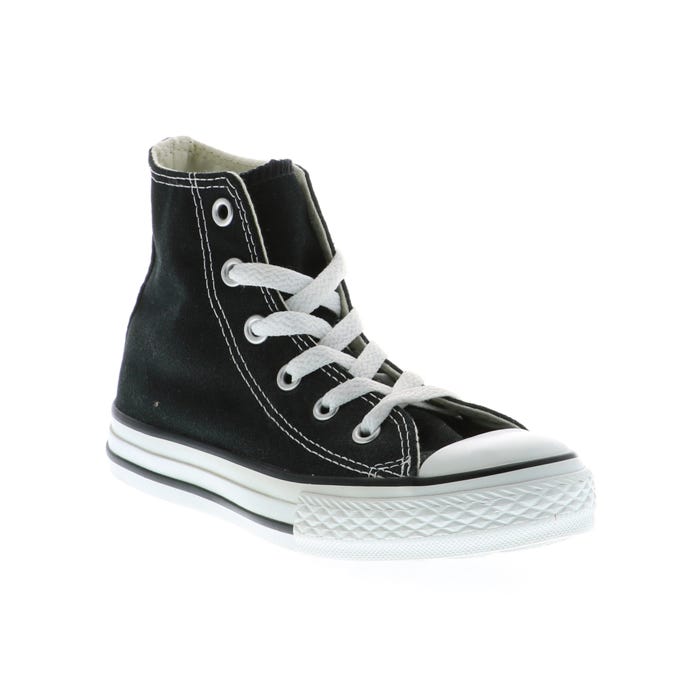 Converse Chuck Taylor All Star Toddler Unisex Casual Shoe
Converse make an appearance here, as well, with the Chuck Taylor All Star Toddler Unisex style. Is there anything more adorable than seeing smaller versions of adult classics?
Sperry Intrepid Crib Boys' Casual Shoe
Which takes us to the Sperry Intrepid Cribs. Obviously not necessary for walking in such a small size, but the cuteness quotient cannot be denied.
Beverly Hills Lil Aiden Infant Boys' Casual Shoe
And these adorable miniatures. Teach him to start styling with one of his first pair of cool shoes. The Beverly Hills Lil Aiden come in infant sizes.
Fila Beyond EVO Toddler Boys' Slide
And just right for summertime, get him some Fila Beyond EVO Slides with a heel band to keep little feet strapped in.
Shop Toddler Shoe Sizes 5 – 10

No matter which styles you choose for your babies' shoes, make sure to treasure every step of the way.