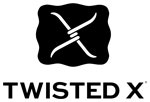 Looking for comfort and a unique style? Then the Twisted X shoes are for you.
Twisted X offers comfortable and durable styles with a western-like design.
Some of the most popular styles are the Twisted X Driving Moccasins and the Twisted X Bomber shoes.
Most of the Twisted X styles come equipped with a nice leather upper and antibacterial insole.
Shop Twisted X shoes for men and women today!