Your Sports Shoe Gear Guide
Let the games begin! From team sports to individual events, get ready to compete—and win—in the top athletic shoes for 2022. Since happy, healthy feet can make the difference between a good season and a great one, it's well worth investing in a quality pair. Bonus points for performance technology features. Kick your sports shoe game into high gear, shop here for kids' cleats, soccer spikes, and men's and women's styles for diamonds and courts.

To streamline your search, we've gathered our winning picks for many popular fall and winter sports, along with some pointers on key features to shop for.

BEST BASEBALL & SOFTBALL CLEATS
Under Armour, our best brand for baseball cleats, delivers men's, women's and kids' styles just right for the diamonds. The trademarked Ortholite sockliner has long-lasting compression for improved traction, while the UA HOVR Cushioning returns energy to your foot for added spring to propel your leaps and bounds.

Under Armour Glyde Women's Cleat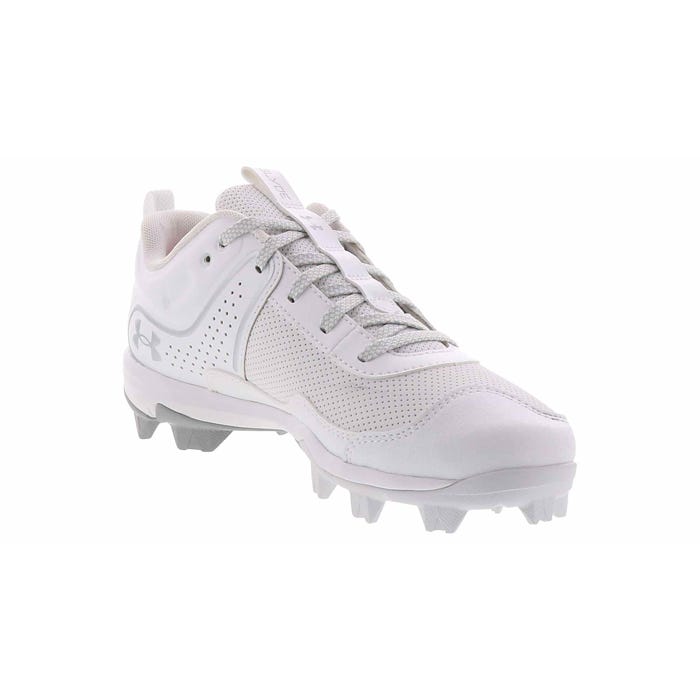 Stay grounded while swinging for the fences with the assertive traction of this women's softball cleat. Then, fly around the bases in the dynamic design that feels as light as running on air.

Under Armour Glyde Girls' Cleat
The same model comes in a cleat for girls, too. This version is popped with neon pink, molded in the heel, and crafted in breathable mesh.

Under Armour Harper 5 Men's Baseball Cleat
With supreme flexible, durable, TPU toughness, UA's men's cleats offer what the brand describes as a "zero-gravity feel" thanks to its strategically placed trademarked cushioning. The added structure and high-ankle support complement the light hybrid cleat plate with front microtip metal spikes.

Under Armour Harper 6 Boys' Baseball Cleat
The hi-top ankle collar of the boys' baseball cleat is similar in style for ultimate comfort and support when it's batter up. It's a top-quality design from MLB pro Bryce Harper.
BEST SOCCER SHOES
Running, kicking, tricks and quick pivots are on the roster for days of soccer. High-quality footwear is essential for safe performance, and proper shoe support helps with better ball control and split-second directional decisions.

Charly Grasshopper Boys' Soccer Cleat
For young grasshoppers aspiring to soccer stardom, or even some well-earned wins, Charly delivers a durable field cleat designed with top-quality shoe innovation. Footballers like André Pierre Gignac and Liga MX champion, Luis "Chapito" Montes, back the 70-year-old brand.

Charly Grasshopper Men's Soccer Cleat
There's a grown-up version for graduated grasshoppers in the sleek graphic lines of a silver-and-black design. Look for excellent traction in moisture and on short-grass fields.

Adidas Predator Edge Girls' Soccer Cleat
She shoots, she scores in Adidas' soccer cleats. Girls can dominate the pitch with effortless effect in the Predator Edge style. Soft on top, the versatile sole and spikes take control of the ground and grass.

BEST CHEER SHOES
Gymnastic flips, sky-high tricks, and perfectly executed jumps demand a design that's light on its feet with high-bounce performance and shock absorbance.
Gimme an F-I-L-A for our best cheer shoes of the season. Prepare to win jumps and stunts in these sleek rubber outsoles with pivot points. The faux-leather upper features color cards to pop the translucent side logo. Available in women's sizes, too.

BEST BASKETBALL SHOES
Ankle support, pivot-friendly soles, and firm lateral structure are must-haves for a safe, comfy basketball shoe. And if it scores major style points, even better.

Fila Activisor Girls' Basketball Shoe
She'll move with lightning speed down the court in the firm lateral support of these basketball hi-tops. The lightweight synthetic-and-mesh upper comes with plenty of cushioning at the collar and tongue to keep ankles strong and energized through long practices and late games.

Puma Rebound Layup Men's Basketball Shoe
Dribble, dunk, shoot, score—these durable basketball shoes provide support for fast breaks and high-flying moves. Shop for Puma's SoftRide midsole foam to stay light on your feet. The Puma brand was built on the promise of sport to transform and empower.

Adidas Cross 'Em Up Boys' Basketball Shoe
Adidas makes another triple-stripe appearance for top athletic shoes with this boys' basketball style. Young ballers love the graphic palette popped with red accents as much as the Cloudfoam insole, superior outsole, and mid-top ankle support.

BEST PICKLEBALL SHOES
Trending now, this small-court sport is all the rage. Get the right pickleball shoes by shopping for stability, ventilation, and cushioned support.

Skechers Viper Court Pickleball Shoe
With men's and women's styles, Skechers pickleball shoes feature lightweight, UltraFlight cushioning and a branded Goodyear Performance outsole. Own the court and dominate the league in our best Skechers shoes for this sport.

BEST ALL-AROUND ATHLETIC SHOES
Sports and fitness fans come in every variety, so sometimes an exceptional all-around sneaker is exactly what your seasonal sport calls for.

Asics Gel-Venture 8 Women's Sneaker
From courts to fields to tracks, this lightweight style is supportive for many sports, making it a winner in our all-around competition. The gel midsole and padded collar provide extra cushion while the mesh-and-synthetic upper with lace-up closure and rubber toe bring durability.
New Balance Men's Cross Trainer Athletic Shoe
A classic comeback, now in a new, subdued color combo. It's a versatile favorite that's ready for the court, the field, or even the classroom with a densely padded collar, cushioned insole, and durable rubber outsole for comfy all-day wear and sports galore.

As with all athletic gear, the shoes you choose hold one of the keys to sports success, no matter the game of choice. And once the gear is good, make sure to enjoy the win.